In January 2018, the IAR shura initiated a request to formulate a 5-10-year strategic plan for the center. Shortly after, a team of Shura members along with advisors and communityexperts was formed to tackle this arduous task. The team met regularly between February 2018 and February 2019. The team sought input from key stakeholders including the IAR CEO, the Shura, the board, committee chairs, the office of the Imam's and volunteers. Additionally,the committee devised and administered a survey to communitymembers seeking their valuable input. The survey was available in paper format, online, via mobile app andsocial media. Externally, the committee sought advice from key strategic planning experts including ISNA, ICNA and educational institutions. The report below summarizes our findings and recommendations necessary for the IAR to move closer to attaining its stated mission and vision.
Frequently Asked Questions
Strategic Planning Process
This strategic plan represents a five to ten year planning cycle for the IAR and builds upon its previous strategic plan. The key elements of the strategic planning process are outlined in Figure 1 below.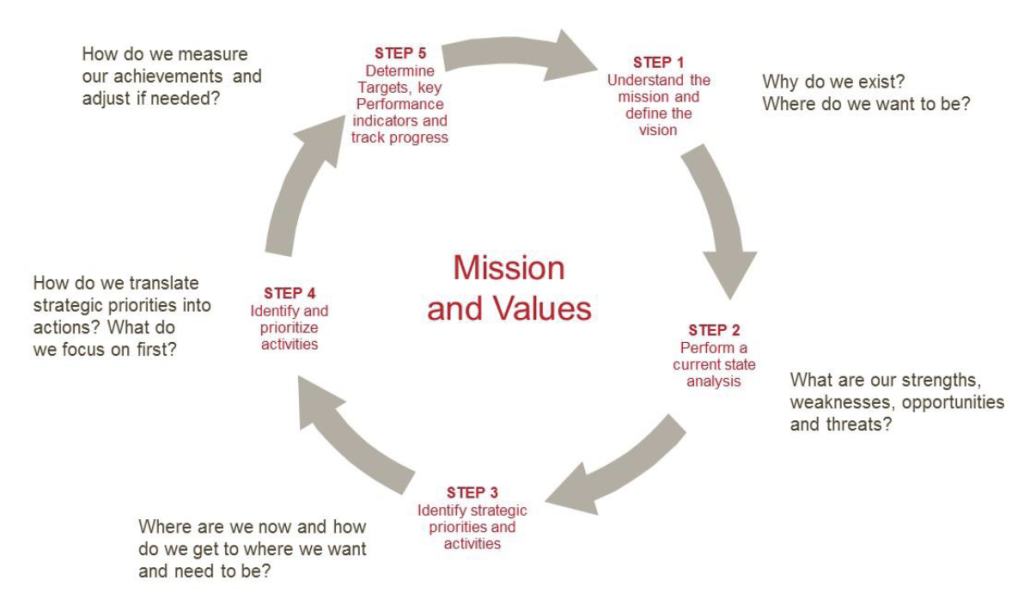 What follows in this document is a strategic plan for the IAR that includes the following sections:
Step 1: IAR's Mission, Vision and core Values;
Step 2: Current State Analysis;
Step 3: Strategic Priorities and Activities;
Step 4: Prioritization of Activities; and
Step 5: Determination of Key Performance Indicators.
Handoff: Strategic plan implementation suggestions
Mission, Vision, Core Values and Focus Areas
The strategic planning process reaffirms the mission and vision of the organization, the strategic priorities to accomplish the vision, and reconfirms the core values to maintain as the Islamic Association of Raleigh works towards meeting the priorities. 
Mission statement
This sets out why the IAR exists, its purpose and who it is doing it for.
To support, develop and empower people to understand and live Islam with utmost clarity, thereby becoming positive contributors to society.
Vision Statement 
This is the IAR's ideal state, where it wants to be in the future.
To be a leading organization, welcoming to all, and to serve as a hub for spiritual growth.
Core Values 
Core Values are the fundamental beliefs that dictate an organizations behavior.
| | | | | |
| --- | --- | --- | --- | --- |
| Invitation | Sincerity | Service | Learning | Legacy |
Focus Areas
Focus areas serve as the pillars for which the strategic plan is built upon.   Improvement in these area's will lead us closer to our stated vision.
| | | |
| --- | --- | --- |
| Religious Initiatives | Education Initiatives | Financial Initiatives |
| Community Initiatives | Outreach Initiatives | Administrative Initiatives |
Summary and Analysis of previous 5 year plan:
The IAR last took on the endeavor of as strategic plan in 2009. As a result of that plan, several new initiatives and subsequent outcomes emerged.
Activities that had significant progress and/or were completed, are not carried forward into the current strategic plan. Activities that were not completed in the last planning horizon have been appended into the current strategic plan. 
Establish a triangle area Imams' council
Continue to look for future expansion possibilities
Establish a Quran memorization school
Develop a fundraising team
Pre-marital and ongoing marital counseling
Counseling for new parents
Increased opportunities to volunteer
Increased the availability of  member resources
Mission, Vision, Core Values and Focus Areas
A current state analysis was performed to review factors that impacts the IAR – either positively or negatively.  It is an exercise that considers all assets and opportunities for the IAR. It also identifies gaps or vulnerabilities that could impede the IAR's success. An environmental scan is always limited – we can never know everything or predict the future. However, it is also a useful tool to consider the operating environment that can affect the success of the IAR's efforts. Figure 3 below outlines the Current State Analysis process.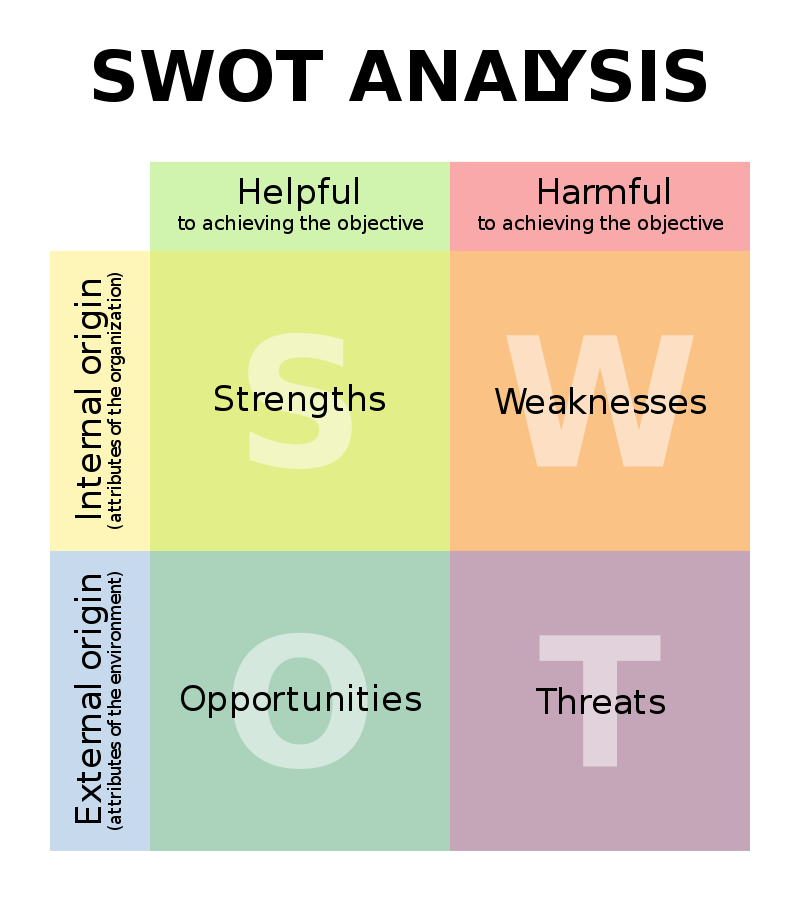 What follows is a summary of feedback on the IAR's strengths, weaknesses, opportunities and threats that have been identified by community members, the IAR key stakeholders and the Strategic Planning Committtee. 
Strategic Priorities and Activities
Based upon the Mission, Vision, Core Values, Previous 10 Year Prior Accomplishments and the Current State Analysis, the Strategic planning committee has determined and defined key Strategic Priorities that will assist the IAR in getting where it wants and needs to be.  The section below lists IAR's Strategic Priorities and Activities.
Empower the office of the Imams' to reshape programs for future generations
This organizational goal is important because it provided the office of the Imams' the flexibility and autonomy to develop programs geared towards the generations of Muslims that will improve upon the legacy we have left behind for them at IAR.
Activities necessary to achieve this goal:  
Establish a fee structure format for individual services
Hire and administrative assistant for the office of the Imams'
Decrease the communication load of the Imams
Delegate parts of religious execution under the supervision of the Imam
Prioritize the office of the Imams' to focus on education, outreach and leadership development
Develop a core team of leaders to be the bench depth of this community.
Create a more welcoming environment for our community members
This organizational goal is important because it addresses the needs and concerns of the community via the IAR survey.
Activities necessary to achieve this goal:  
Establish Mandatory training programs for all IAR staff, administrators and volunteers
Provide community accessible spaces (coffee shop, workspace, lounging area, etc)
Increase convert, youth, senior and women engagement
Provide childcare of parents during programming
Establish pre-marital support programs
Build a youth center
Improve the overall quality of IAR Education services
This organizational goal is important because our community members seek our services for self-betterment. Education goes beyond pedagogical considerations or scholarly aspirations. By educating our community members, we are helping fulfil our stated mission and empowering community members to become positive contributors to society.
Activities necessary to achieve this goal:  
Build a high school rooted in Muslim values and practice
Establish personal skills and vocational training using the masjid as a platform
Establish youth centered programming
Increase collaboration between the existing IAR Schools
Apply evidence-based learning methodology across educational programs
Expand outreach services to connect with larger portions of the population
This organizational goal is important as outreach and giving back to the community are cornerstones of Islam. Additionally, expanding outreach services helps to dispel the myth of Islam as introverted faith and allows us to live our mission of positive contributors to society.
Activities necessary to achieve this goal:  
Allocate a full-time staff member, additional volunteers and resources to the outreach committee.
Increase public school presence in Elementary and Middle Schools
Establish an "Islamic values and cultural sensitivity" training program
Improve the financial health of the IAR
This organizational goal is important because funding and resources are necessary for us to achieve our mission and vision.
Activities necessary to achieve this goal:  
Generate a portion of IAR's  expenditure through internal revenue streams
Grow IAR Endowment to 5 Million dollars
Communicate with IAR donors on a consistent basis
Hire a director of development
Increase the efficiency of our staff, volunteers and physical spaces
This organizational goal  is important because the IAR is heavily dependent on a dedicated team of volunteers and minimal staff.  As a very lean organization, efficiency becomes extremely important.  We must create the systems necessary for our staff and volunteers to work smarter and be more effective with their limited time.   Space is at a premium at the IAR, thus , efficient and thoughtful use of our existing space will yield maximum benefit.
Activities necessary to achieve this goal:  
Create a volunteer committee
Standardize the format for all programs across the IAR
Accept electronic payments for all transactions – Staff, volunteers and community members
Create a marketing and Public Relations department responsible for improving IAR's branding
Create partnerships with existing community organizations to leverage resources
Deploy a collaboration /communication platform for IAR 
Determination of Key Performance Indicatorsand Targets
Based on the strategic priority, each organizational goal has activities and key performance indicators that are S.M.A.R.T. – Specific, Measurable, Attainable, Realistic and Timely, making the vision more concrete by defining how success is measured. Performance indicators are used to monitor progress towards strategic priorities, closing the gap between the current state and the future state, as defined by the vision. By measuring progress, they will help track the realization of strategic priorities. Performance indicators should focus on desired outcomes for strategic priorities. 
When determining key performance indicators, the following principles were taken into consideration:
Link to the IAR's strategic priorities;
Limit to the select few that measure success;
Guide desired decisions and behaviors;
Can be easily understood and measured; 
Are relevant to the specified goal
Goal Types:
Goals were then assigned two variable markers based upon the impact area and McKinsey Horizons of growth
| | |
| --- | --- |
| GOAL TYPE 1:  Impact area | Primary goal types define what area of IAR's are most impacted by this goal. |
| Financial | Goals that directly impact revenue and expenses |
| Process | Enhances, changes or adds to the processes in place throughout the organization. |
| People | Impacts upon the people of the organization, including staff, volunteers and community members. |
| Places | Goals related to our physical places of worship and congregation |
| | |
| --- | --- |
| GOAL TYPE 2: Timeline | Secondary goal type are related to IAR's immediate, short term and long term projects. |
| Horizon 1 | Impacts current business activities  – essentially improving on our current process. |
| Horizon 2 | Involves creating additional value by means of a new method or process not currently in place |
| Horizon 3 | Blue sky thinking – These goals are warranted and justifiable, but size and expense is a major obstacle |
Implementation Suggestions
The strategic planning exercise is beneficial in itself for articulating a shared vision of the IAR's values, priorities, and activities. If it ends there, however, the IAR will only realize a small fraction of the ̕benefits that might accrue through full implementation of the strategic plan. In order to gain the full benefit of the strategic plan, it must be implemented in a way that helps to guide all actions of the Shura and administration. For example, it must remain integrated in annual planning, decision making, and reporting of the IAR's Shura. Finally, it must also remain in the minds (and hearts) of the people.
In order to keep track of the progress towards achieving the strategic plan and the IAR's vision, a process must be put in place and a strategic scorecard must be developed.  The Strategic planning committee's recommendation is for the shura to form a follow up committee tasked with implementation of the strategic plan. A Chairman should be identified for the "Strategic Planning Implementation committee" and the frequency of reporting to the Shura should be specified.
It is possible that certain activities may need to be revisited due to changes in the internal and external environment and reprioritized depending on the results attained each year. The Chair, and members of the Strategic planning team are committed to assisting with the transition from plan to implementation.