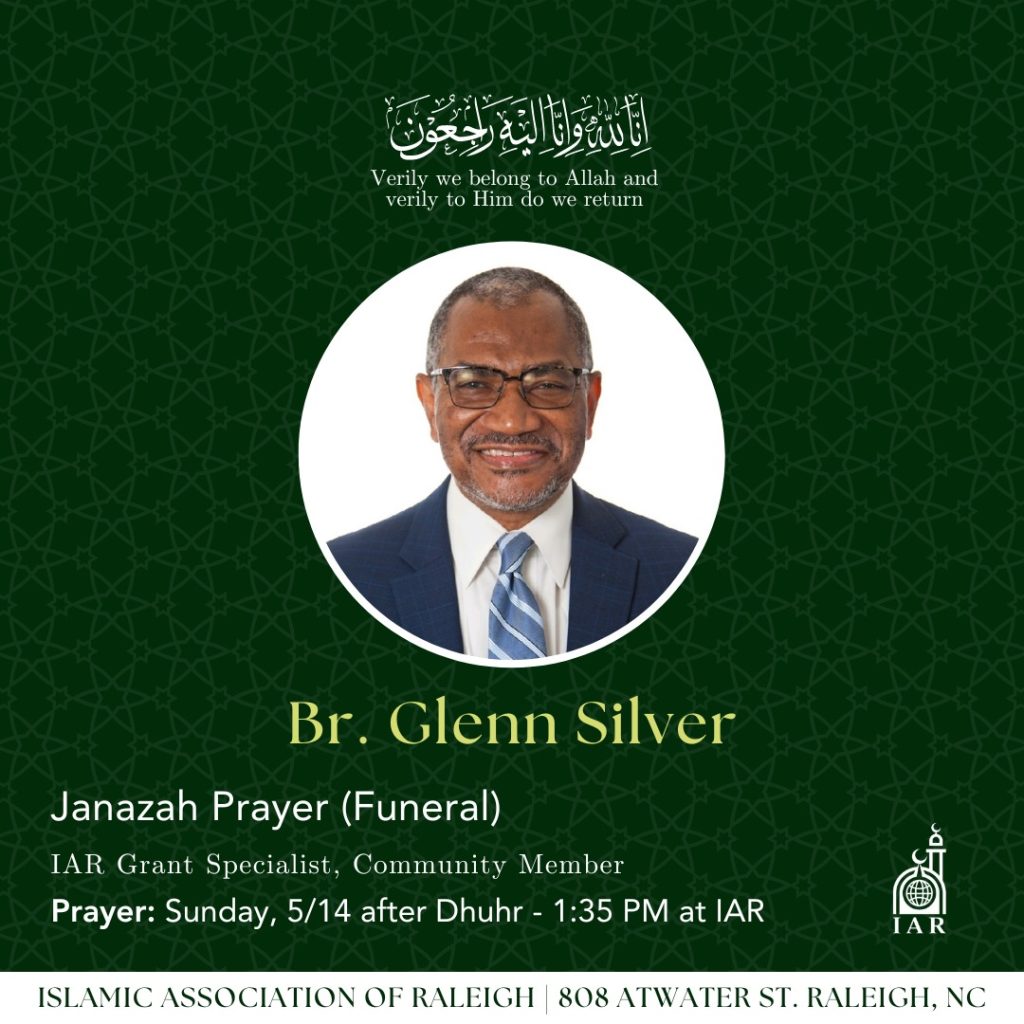 Dear Community Members,
It is with a heavy heart and profound sadness that we mourn the passing of our dear brother, Glenn Silver. ʾInnā li-llāhi wa-ʾinnā ʾilayhi rājiʿūn (Verily we belong to Allah, and verily to Him do we return). As many of you may already know, Glenn was an invaluable member of our community and an exceptional volunteer at the Islamic Association of Raleigh. His unwavering dedication and selflessness have left an indelible mark on all of us.
Glenn's commitment to serving others knew no bounds. He consistently offered his time, skills, and resources to support various initiatives within our community. Whether it was providing assistance with writing grants on behalf of the IAR, assisting with educational programs, or serving as a dedicated shura member, Glenn's presence was always felt and appreciated. His kindness and genuine concern for others touched the lives of countless individuals.
Beyond his selfless acts of service, Glenn was a true embodiment of the Islamic values that we hold dear. His unwavering faith, humility, and compassion were evident in every interaction he had, and he served as an inspiration to all who had the privilege of knowing him. Glenn's radiant smile and warm personality brought joy to our gatherings, reminding us of the strength and unity that can be found within our community.
In this time of grief and reflection, let us remember Glenn as a shining example of a devoted Muslim brother. Let us honor his memory by continuing the noble work he began, by striving to emulate his generosity, and by fostering the spirit of unity and love that he embodied.
As we mourn the loss of our dear brother, let us also extend our thoughts and prayers to his family and loved ones. May they find solace and comfort during this difficult time, knowing that Glenn's legacy lives on in the hearts of all those whose lives he touched.
The Janazah Prayer will be held at IAR on Sunday May 14th after Dhuhr (1:35 PM). Your presence and support would be greatly appreciated as we come together to honor our beloved brother in remembrance of the profound impact he had on our lives. Together, as a united community, we can find strength and comfort in each other.
May Allah bless and grant eternal peace to our dear brother, Glenn Silver.
On behalf of all of us at the Islamic Association of Raleigh,
Osama Said
Chairman