Eid-ul-Fitr is on Friday, April 21st.
The Islamic Association of Raleigh extends its congratulations to the Triangle Muslim community on the arrival of the blessed day of Eid-ul-Fitr on Friday, April 21st. The date of Eid at IAR has been determined based on the local Triangle Imams' Council's policy for moon visibility in alignment with the Fiqh Council of North America (FCNA).
Please park at the NCSU West Deck and save Masjid parking for our elders and those in need. There will be several shuttle busses circulating between the deck and Eid prayer venue.
Carpooling is HIGHLY encouraged. Please bring a prayer rug and arrive as early as possible due to limited parking and traffic delays.
Zakat-ul-Fitr is $15 per person and should be paid before the Eid Prayer. It will be collected at IAR during the remaining days of Ramadan and at prayer until the beginning of the Eid prayer on site. You are encouraged to pay online.
We wish you and your loved ones a joyful day of celebration and worship! We ask Allah SWT to accept our fasting and allow us to witness many Ramadans to come, Ameen. Eid Mubarak!
1st Shift
Gathering at 6:00 AM with Prayer at 7:00 AM sharp
2nd Shift
Gathering at 8:00 AM with Prayer at 9:00 AM sharp
3rd Shift
Gathering at 10:00 AM with Prayer at 11:00 AM sharp
Jumuah Prayers at IAR | 1:00 PM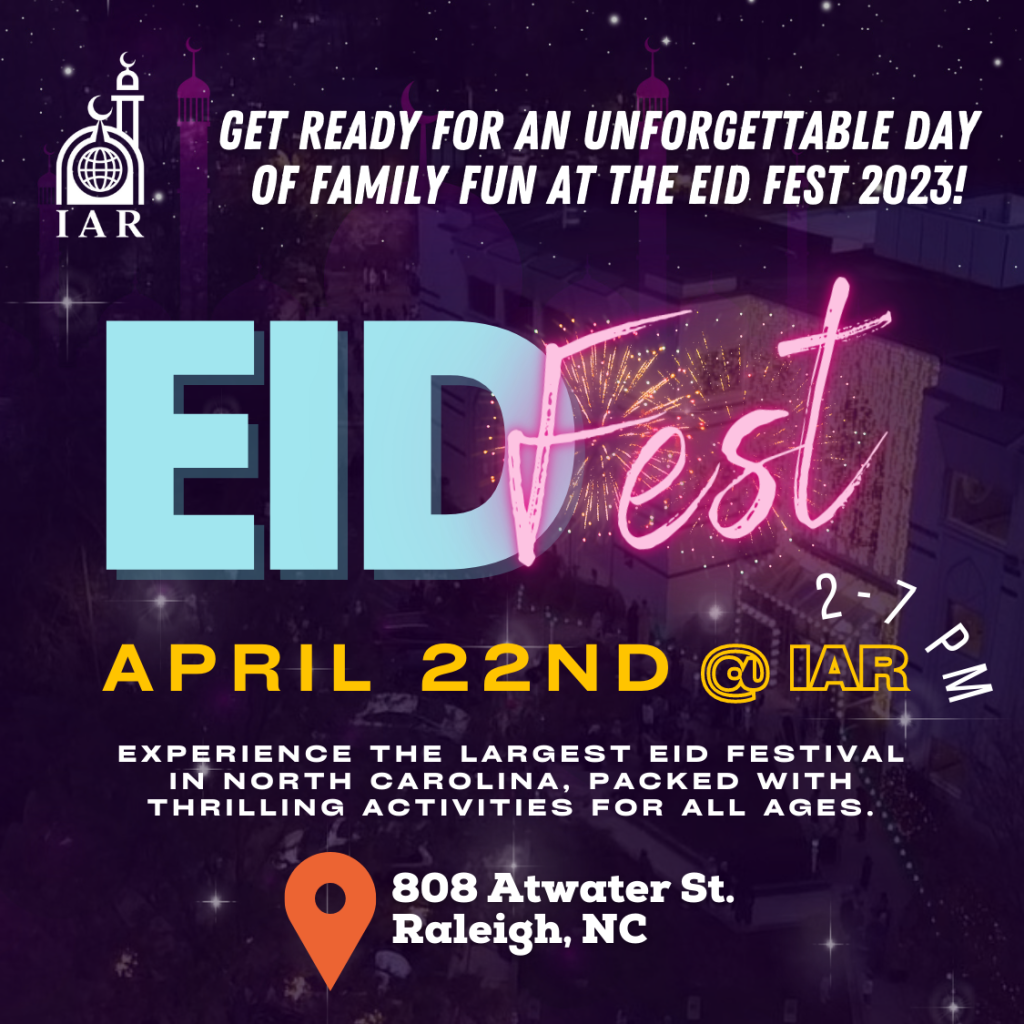 Our team is monitoring weather forecasts. The rain date for Eid Fest is April 29th from 2pm-7pm, and a decision will be made this afternoon
Join us for our annual Eid Festival, on April 22nd!
April 22nd from 2:00 PM to 7:00 PM​
@ IAR Atwater
Experience the largest Eid festival in North Carolina, packed with thrilling activities for all ages.
Please Note
The IAR has an annual reservation at our regular large venue for Eid prayers. Unfortunately, the venue recently canceled this year's reservation to accommodate a prioritized vendor. With this unanticipated cancellation and limited time to find an alternate location, our team members spent the past few months diligently exploring different indoor and outdoor venues for Eid prayer. After thorough research and careful planning considering prayer space, parking capacity, and our community's safety, we found the above arrangement to be the most suitable for our beloved community.