The Youth Committee at the IAR is offering a variety of Clubs & Sessions for our youth. Generally all clubs and sessions require registration and are 6 weeks long from 6:30pm to 8:00pm with breaks for Salah. Youth will have the opportunity to network with other youth and with our professional community members while gaining a skill. Our goal is to offer more Clubs & Sessions as they become available. For more information and to register please see below.
---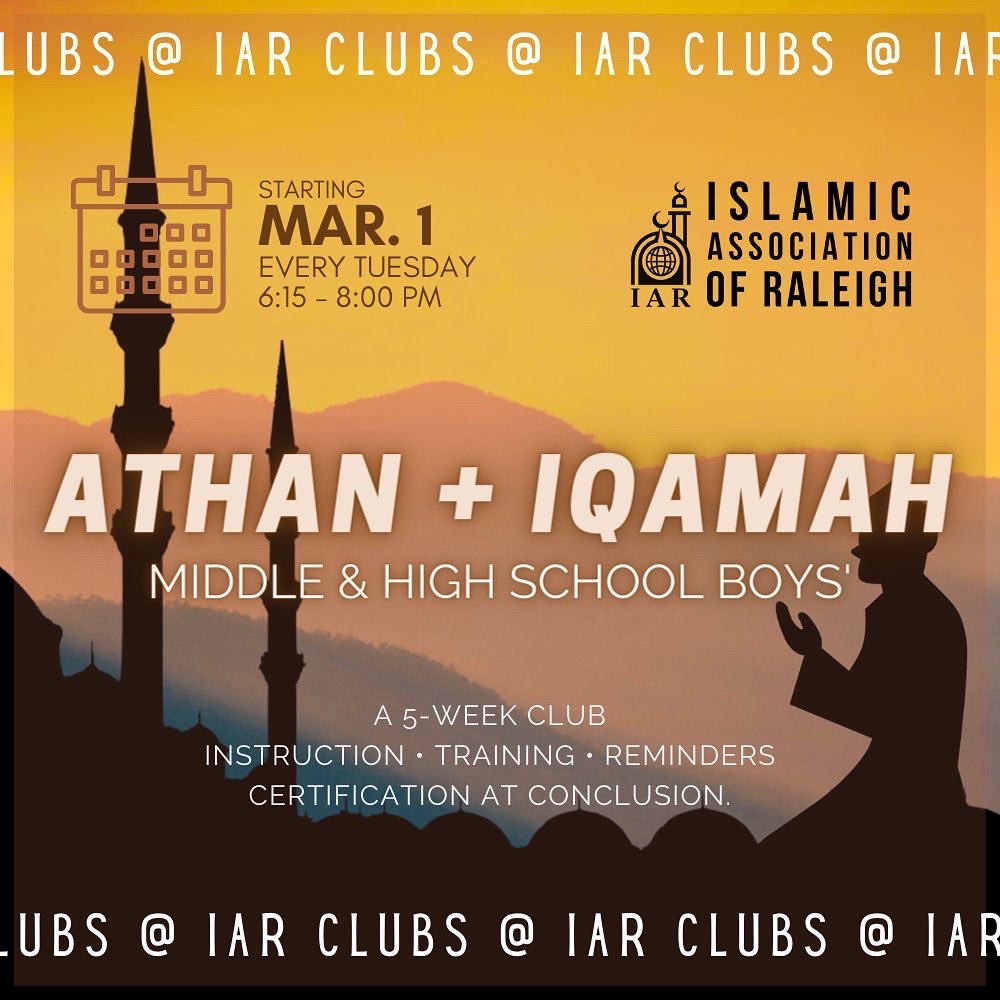 Athan & Iqamah Club
Brothers, you can become IAR's newest Muadhin! Our young brothers in Middle and High School are invited to join a 5 week Athan and Iqama club to learn about the history and virtues of making the athan, the meaning of the athan and iqama, and basic fiqh behind the athan.
Through demonstrations, memorization and correction, you will learn how to give the athan and iqama properly. You will also get to hear the different melodic styles from around the world.
The Athan and Iqama Club will meet on Tuesdays from 6:30 – 7:15pm. A short reminder will also be given at each session. www.raleighmasjid.org/clubs
---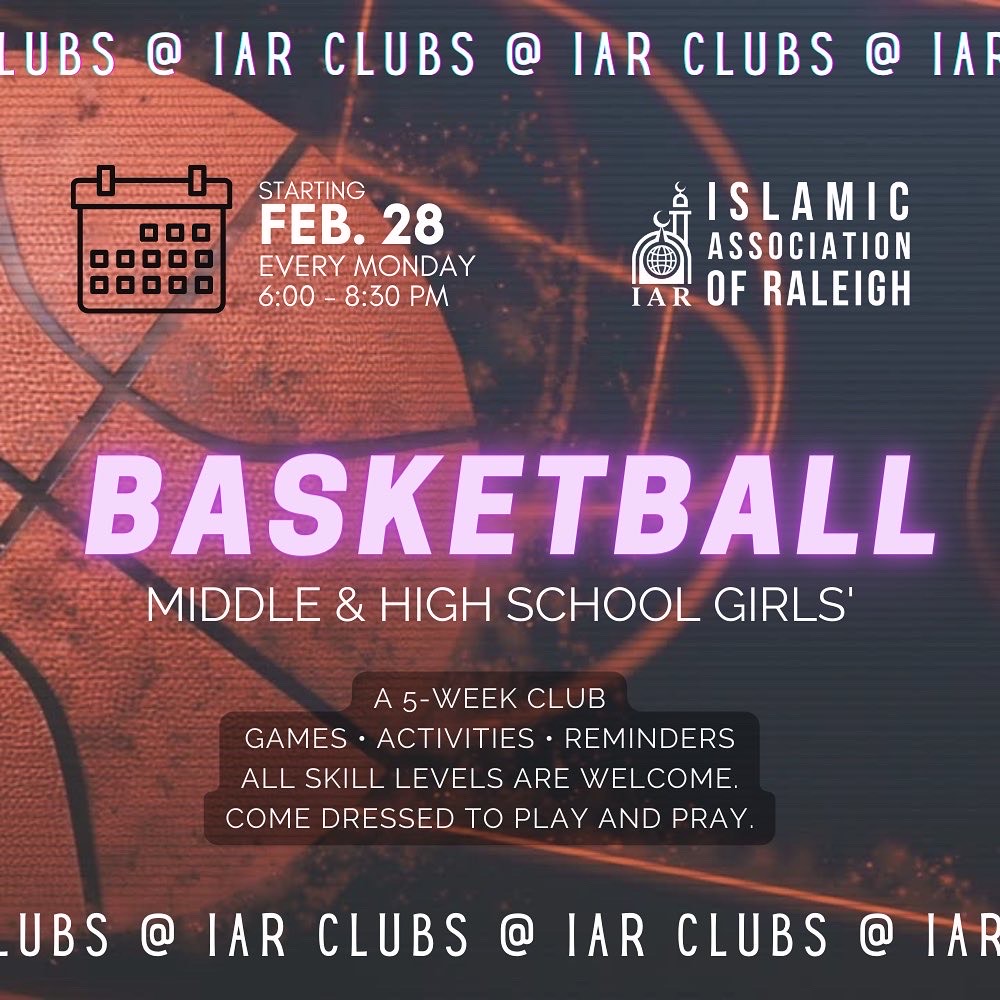 Basketball Club Girls
Have you ever wanted to learn or improve your basketball skills with a great coach? Now is your chance! Sr April Ackles will be leading this 5 week basketball club for girls only where you will learn new skills, practice old ones and play friendly games with your teammates. This club is open to all girls in Middle School and High School regardless of previous skill or experience.
If you decide to join this club, you will be expected to come dressed ready to play! This means sneakers, athletic pants and clothes you can move in (no abayas or skirts while playing. The gym will be reserved just for girls during meeting times for this club, in sha'Allah. We will break for all prayers iA so make sure you have your clothing appropriate for prayer with you!
Club days are Mondays starting February 28 and ending on March 28. www.raleighmasjid.org/clubs
---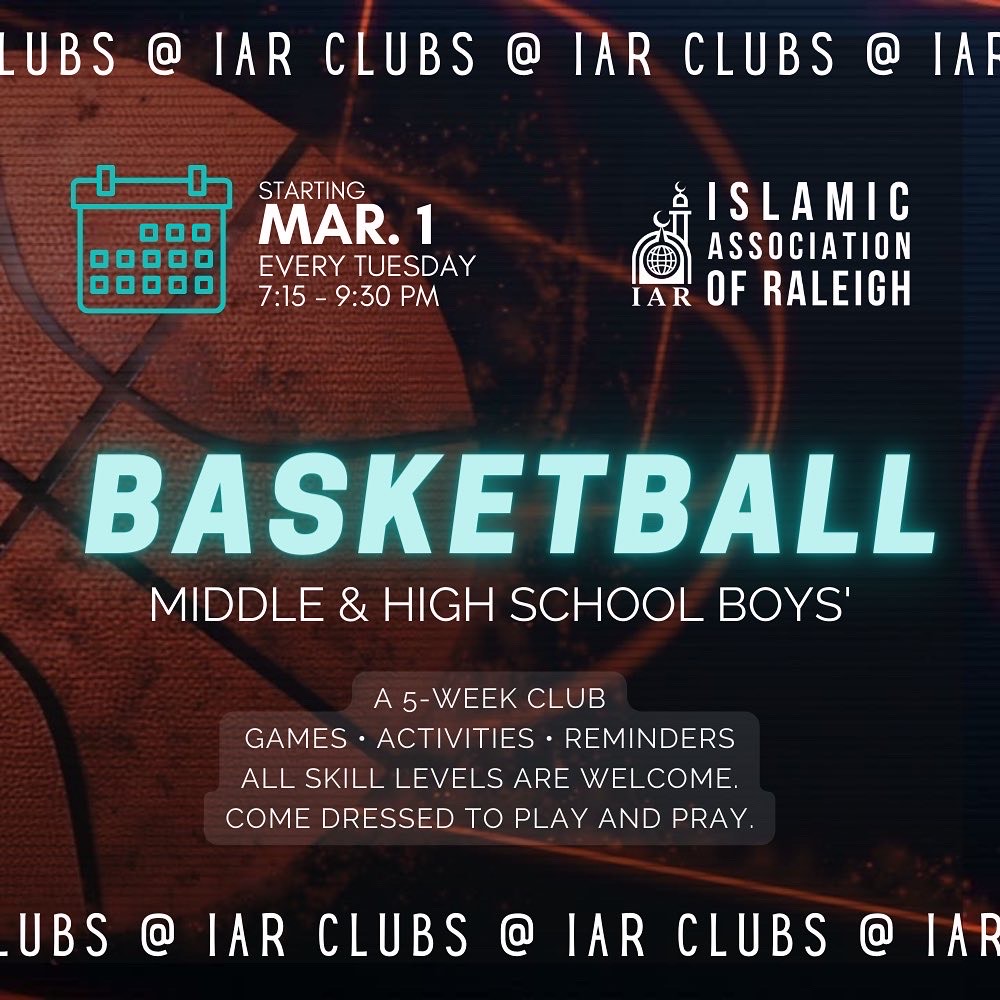 Basketball Club for Boys
It's game time! Sign up for IAR Youth Basketball Club for Boys where you will sharpen your skills through drills, practice and games. No experience? Not a problem, you will learn techniques and rules and have a chance to play against your peers. This program will be led by Br Ali Jaffrey and a team of volunteers.
Basketball Club will meet on Tuesdays for five weeks starting March 1 and ending on March 29, in sha'Allah.
Game play will stop for prayer and there will be a reminder each week. www.raleighmasjid.org/clubs